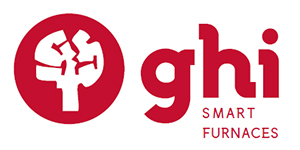 GHI Industrial Furnaces S.L. (GHI) is a Basque family-owned company with 80 years of experience in the design, manufacture, and commissioning of facilities for metal melting, heat treatment, and heating. It offers a comprehensive range of services, including turnkey plant supply, technical assistance and digitalization, as well as supply of auxiliary furnace equipment (loading machines, slag removers, etc.). 
GHI Industrial Furnaces caters to a broad spectrum of end-users, including steel mills, aluminum producers, wire mills, forges, and more. The company has over 8,000 references in industries such as automotive, electric power, or aerospace, specializing in the aluminum, steel, and zinc sectors. 
Various types of furnaces and services are produced, and according to their general manufacturing program, GHI is able to design, manufacture and supply melting and holding furnaces, preheating and heat treatment furnaces, auxiliary equipment, scrap preparation plants, atmosphere generators, dryers, and equipment for special applications. 
For GHI Industrial Furnaces, R&D&I is a chapter of paramount importance, with over 30 people involved in innovation tasks. They regularly participate in research projects at the European, national or local levels in consortium with different industrial companies and technological centers. GHI has state-of-the-art facilities for carrying out R&D activities, with fully efficient equipment in this regard. 
My name is Angel and I'm a process engineer working at GHI. I've worked in several departments in my 12 years at GHI, always having a significant role in the innovations that we've incorporated in our furnaces. In Hyinheat my role will be supporting the industry partners with my knowledge in furnaces and being GHI leading contact.